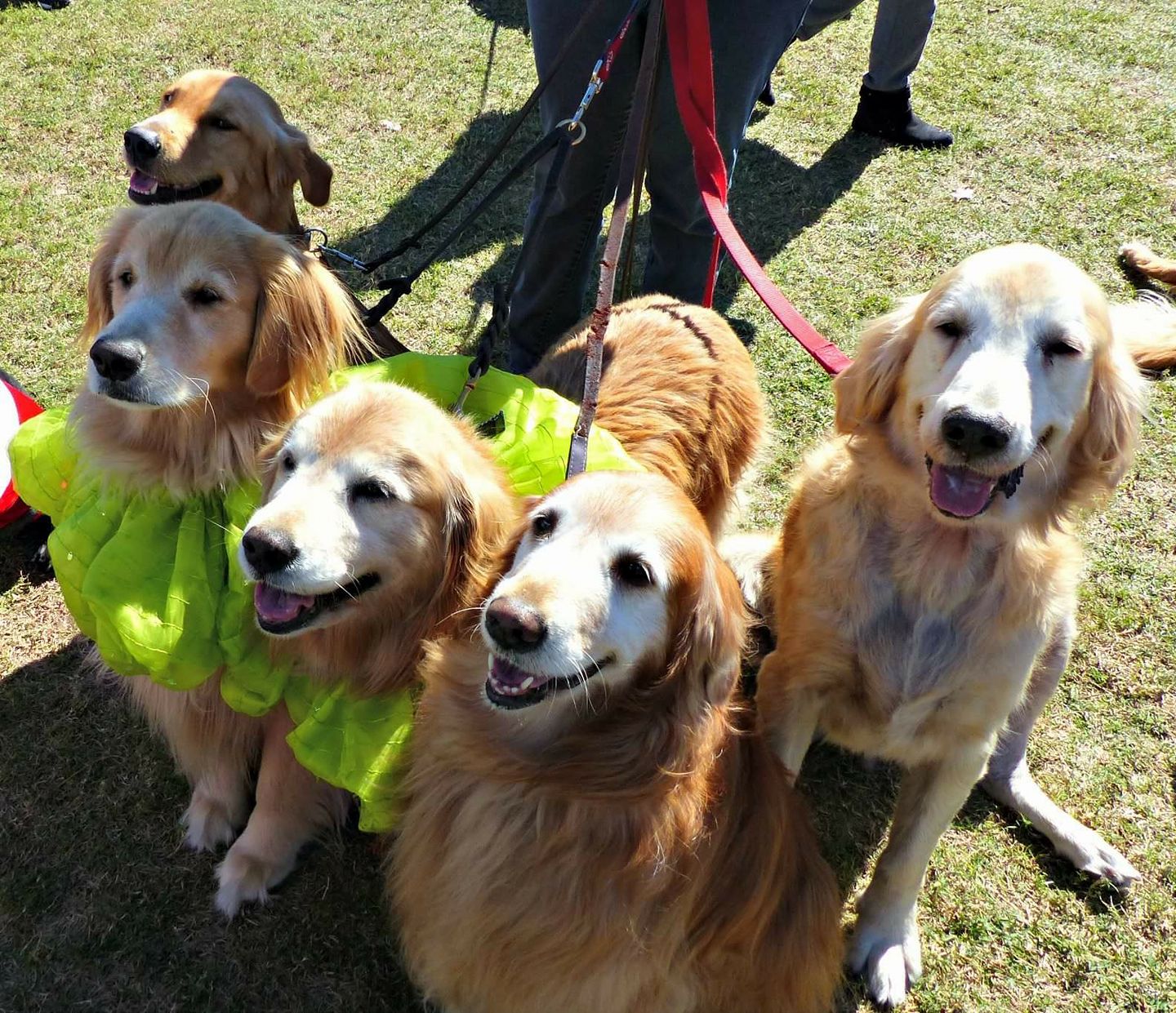 BABY GIRL
Gender: Female
Age: 5 years
Vaccinations: 3/16/12
Spay/Neuter: 4/5/12
Heartworm status: positive
Intake 3/16/12
Baby Girl is adopted and will be living the GREAT life in Memphis.
Adrian's parents - one of our GSGRR volunteers- have adopted BabyGirl. They will have her treated for HW's and give her everything a Golden could want in life. Adrian delivered her to them in early April 2012.
BabyGirl was an owner turn-in to a local shelter. Since she was Heartworm positive they asked us to take her to find her a home. She is a smaller female, a little timid and very loving. BabyGirl2 lived in an outdoor kennel and was unfamiliar with being inside. She took to it pretty fast and after a little work she is housebroken and ready to go to her forever home.
BRANDON NOW MUMFORD
Age: 1 yr aprox
Gender: Male
vaccinations: 12/26/11
Spay/Neutered:Yes 12/29/11
Heartworm Status: Tested negative 12/11
Weight: 64# underweight
Temperament/energy level: typical puppy energy but trained and affectionate - does well with other dogs
Brandon was adopted and now named Mumford.
Bandon is great with people and other dogs. He was an unclaimed stray. He likes to play fetch and will give the ball back gently on command. Since he is still young, he needs continued training not to jump on people. He had a slight skin irritation though his shiny red coat looks great. He had antibiotics to treat the skin issue and his ears were inflamed and need TLC to stay clean and healthy. At 64#, he is underweight and will probably be 80# + when he is fully grown around age 2 or so.
PUPPY
Gender: Female
Age: 4 years
Vaccinations: 4/14/12
Heartworm status: Tested negative 4/14/12
Puppy is adopted and living in Carriere,MS.
CINNAMON
Gender: Female
Age: about 5
Spay/Neutered: yes
Vaccinations: UTD
Heartworm status: Positive and has started full treatment.
CINNAMON UPDATE
"Cinnamon is doing great! She adapted to the condo very well and this week is liking her new home in Brandon. We had to leave her at home alone with Jared for a few hours on our 1st day back in Brandon and she did well. NO PROBLEMS at all. Completely house trained, no digging, no barking, gets along well with Jared and seems to be quite happy and content. She always comes to us when we call her name. She has a dog bed in our bedroom, and she puts herself to bed some nights before we turn in. We took her for a ride in our boat today. We will keep an eye on her hips for the next 6 months or so, then decide about an evaluation at Mississippi State. She is getting plenty of attention, and returns our affection 10 times over. Thanks for all you do and thanks to GSGRR."

Bill & Gyanne
BROWNIE
Age: 6-7 years
Sex: male
Neutered: yes
Inoculations: 12/27/2011
Heartworm status: currently undergoing full treatment
Brownie has been a very good dog in his foster home. He gets along well with the family's kids, dogs and cats. He has not shown any bad habits or destructive behaviors in their home; though he will pull the stuffing out of his dog toys! He seems to always be carrying something around in his mouth, especially balls, but he prefers stuffed animals or soft toys (they don't last long, however).
While he doesn't counter surf, if there is food nearby at eye level, he will think item is for him, even if item is in your hand and not being offered to him. Our youngest daughter has lost a couple of sandwiches and some cookies he sincerely thought were treats for him, and he's very gentle when he takes food. Because of his heartworms, he has not been allowed to run and play fetch, but he really wants to. He has lots of playful energy, and we can't wait till he's done with his treatment and we can see him at 100%.
CHRISSY
Gender: Female
Age: 1.5 yrs
Vaccinations: 2/2012
Heartworm status: tested neg 6/14/12
Intake: 6/3/12
Chrissy is adopted and will be living in the New Orleans area with Meaghan & Chris.Chrissy was an owner turn-in. We've beenasked to find her a good home. She's housebroken,crate trained, get's along well with other dogs and kids. She's sweet and gentle and calms down fast indoors. She'll follow you from room to room in true Golden style. Chrissy will make someone a great companion dog.
FAITH
Gender: Female
Age: estimate 5-6 years old
Spay/Neutered: Yes
Heartworm status: Negative, retest in 6 months
Faith was picked up by animal control as a stray. Everyone that met her while she was at the shelter thought she was quite old. She came across as sad and she was in bad physical shape. Her coat was thin and her skin was in need of care. She was overweight. The caring staff at JPAS contacted GSGRR to come and help when her original owners did not come to claim her.
Upon a closer examination of her eyes and teeth, it was determined that she was actually much younger than anyone would have thought. Her skin was terrible, she had a bad thyroid and she needed to be spayed. The spay had to be put off twice until she was healthy enough. She needed lots of meds and care/love to get her to the point of being adoptable. During that time, her foster mom fell in love with her and decided that Faith already had a home with her and her husband.
GRAHAM
Gender: Male
Age: 2 years
Spay/Neutered: Yes
Vaccinations: 12/18/11
Heartworm status: positive
Intake: 11/23/11
Graham has been a perfect addition to our family. Graham was surrendered by his owner to a shelter, yet he exhibits wonderful training and great obedience. Graham knows "sit" and "down", though "down" is actually "roll over on my back and wait for a belly rub.". He gently takes food from a hand and waits patiently for his meals. He will come up to us for attention, but easily accepts a quick pat and leaves us alone if more is not forthcoming.
HALLIE
Gender: Female
Age: 2 years DOB 11/15/09
Spay/neuter: Yes
Vaccinations: 10/11
Heartwormstatus: Tested HW- 10/31/11
Intake: 11/3/11
Hallie is living in Mandeville,La with Ninette and enjoying the good life with regular visits to the dog park. Hallie was turned over to us from a local shelter so we could find her a forever home. Hallie is a typical golden in temperament and disposition. She loves everyone and wants love and attention. She gets along fine with the other dogs in her foster home. She is full of puppy energy and loves to chase squirrels.
JACK
Gender: Male
Age: 4 years
Spay/Neutered: Yes
Vaccinations: Current
Heartworm status: Positive, undergoing treatment
Size: medium
RUSTY
Gender: Male
Age: 4 years
Spay/Neutered: Yes
Vaccinations: 11/15/10
Heartworm status: tested negative 11/15/10
Intake: 11/15/10
Rusty was adopted and will be living with his foster mom and dad, Johnny and Jo in Waveland, MS.
LADY
Gender: Female
Age: 6 years
Spay/Neutered: Yes
Vaccinations: 12/29/11
Heartworm status: tested negative 12/29/11
Intake: 12/29/11
Lady was adopted by her foster parents, GSGRR president, Alicia and her husband, Wayne
Lady is such a loving dog once she trusts you. She tries to climb up into your lap to cuddle. She thinks she is a 10 lb lap dog. Although she enjoys getting pet and loved on, she is not so demanding and is fine going to lay down alone for a break. She is playful and will sometimes play ball but she decides when she feels like playing that game. She will gently wrestle with you. She likes other dogs as well but is a little shy with them.
MIDAS
Gender:Male
Age:18 mo.
Spay/Neutered:Yes
Vaccinations:Current
Heartworm status: Tested neg:9/2/12
Midas is adopted and is living in Hattiesburg,MS. Midas is a 18mo old neutered male in need of a new home. He's good with cats and other dogs. He's crate trained and housebroken. Midas has plenty of puppy energy and will need plenty of exercise.
MOLLY
Age: 12 years young
Weight: 50-60pounds
Heartworm: Negative
Spayed
UTD on vaccines 12/11
I'm a beautiful blonde girl, and I'm so happy that the vet's at Abadie Veterinary Hospital saved me and gave me to GSGRR. Now, I'm ready for my new home. When I came into the rescue, I had bald spots on my ears, neck, eye, and belly to due untreated, severe skin allergies, but this did not slow me down or stop me from being a fantastic little girl! Now that I've finished my medicine and am eating better food with weekly medicated baths, my coat has started to come back and I don't have any more bald spots.
I still need regular ear cleaning, but don't mind that at all. For twelve years old, I still get around very well and love to play with toys and my foster home brothers. I am good with the cat here, too, and small dogs that I've met! I've met children ages 4-15 and they are my favorite especially when they throw toys for me or want to play tug of war. I do like it best when you pet me, and if you stop, I'll certainly let you know I want more. I love my bed and going on car rides. I especially love to be with people, but I am a good girl while they are away and don't need a crate.
RACKET
Age: 5 yrs
Gender: Male
Spay/Neutered:Yes
Vaccinations: October 2011
Heartworm Status: Tested positive Oct 2011, started slow treatment with Doxycycline, no clinical signs
Temperament: medium to high energy level, loves to chase balls and toys, friendly with people
Size: slim 70#
Intake: November 2011
Racket was adopted in Feburary 2012:
Racket arrived at his new home on the beach this morning. He was very happy to explore his new home and yard. It made me so happy to see the smile on his face and on the face of his new mom. I really believe they understand when they are finally Home.
RILEY
Intake 1/20/2012
Age: approx. 5 yrs
UTD on vaccinations
Neutered: 1/20/2012
Heartworm +: treatment began 4-18-12
Riley is a golden mix who came to us from a local shelter. He weighs approx. 50 lbs but is a little under weight. He is very content being near his human. He knows basic commands and is working on his leash training. He gets along well with other dogs but does not do well with cats. He is housebroken and has had free roam of the house since his arrival. He has been an excellent guest. He is not crate trained, he has panicked with all attempts to crate him. He loves squeak toys and is not destructive with them which still amazes me!
RILEY
Age: 1-2 years
Neutered
Weight: 50 pounds and gaining
Heartworms: Positive (slight-undergoing slow treatment)
Vaccines: UTD (5-2012)
Riley was adopted and will be living with Michael in the warehouse district of NOLA.Riley came to us after being rescued from the Jefferson Parish Shelter by a young man who then turned him into GSGRR. Upon intake to GSGRR, Riley was malnourished and scared. After a visit to our wonderful vet, a regular diet, and attention, he is doing very well!
SAMPSOn
Age: Will be 7 years old in February 2012
Gender: Neutered male
Shots: Up to date as of 8/12/2011
HW Status: Tested negative 8/12/2011 and on HW prevention medication
Date of Intake: 1/06/2012
Size: Large
Tabasco
Age: 6 (DOB 5-1-05)
Gender: male
Shots: 12/16/2011
HW Status: negative
Sampson and Tabasco have been adopted by the Landry family from Franklin LA.
TRUDY
Age: 6-7 months
Sex: female
Spayed: yes
Inoculations: 5-28-12
Trudy is a young female golden/golden mix. She came to us via the St. Martin Animal Shelter. She appears to be smart and is catching on to commands quickly. Her foster mom is working on her housebreaking and crate training. She is friendly and playful. She appears to be spayed.
THADDEUS NOW BUDDY
Thaddeus- now Buddy- was adopted in may 2012.
Buddy is doing well in his new home. He is learning things remarkably fast. He has learned to go swimming and then dry himself off by rolling on towels and sitting in front of a fan until he is dry, then he asks to be let inside. He has lost most of his baby teeth now. He is almost 40 lbs and his coat has gotten much thicker already.
VALENCE
Age: about 4.5
Sex: female
Spayed: yes
Inoculations: 12/15/2011
Heartworm status: tested negative
Valence has been adopted. Her new human has been waiting for a while for the right dog to fit in his household and with his other goldens. She has fit right in and is enjoying her new pack.