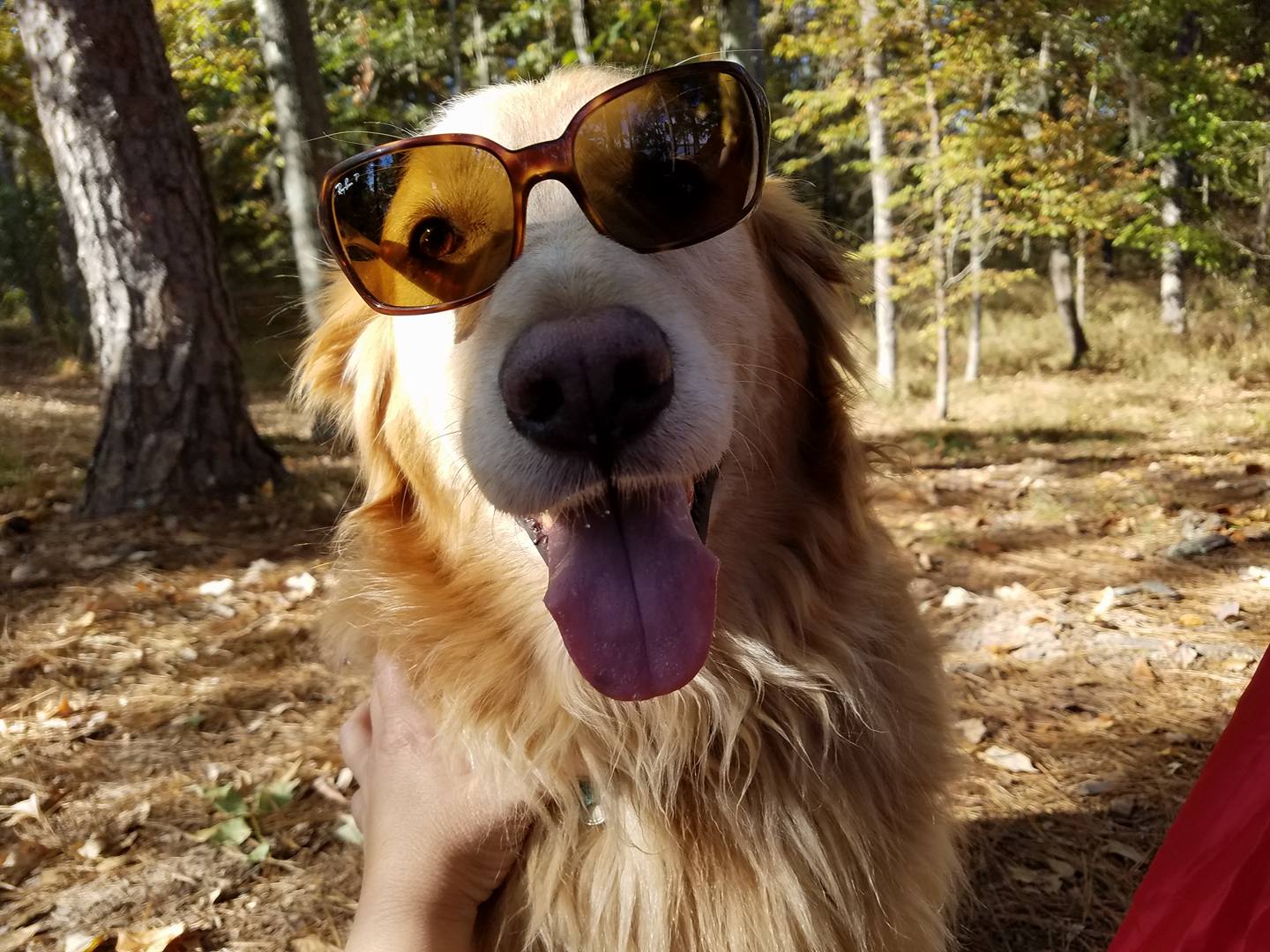 ASPEN, NOW MILLIE
Gender:Female
Age: 9 months
Aspen went to live in Massachusetts on 12/11/11 and will be known as Millie.
"Hi y'all! Millie (fka Aspen) made it to Logan just fine. She came out of her crate wagging her tail. I sat in the back seat with her all the way home to the Cape. She explored the house and back yard thoroughly. This morning she went.for a nice walk to the beach and wanted to go swimming! A little too cold now. We are in touch with a therapist for her underwater treadmill therapy. Plan to post pics soon. We promise to take very good care of her!!! Thanks to everyone!!!"
Aspen came to us after she was injured in an accident and her owners were unable to help her. Their choice was to have her put down. She was lucky enough to end up at MS State Vet School where our own Dr. Andrea Dedeaux is currently doing an oncology internship. It didn't take long for Andrea to take her in on behalf of Gulf South and get everything set up for her to be treated and her injuries repaired.
BABY GIRL
Age: 4.5 yrs
Gender: Female
Spay/Neutered: Yes
Vaccinations: 11/26/10
Heartworm Status:Tested negative 2/11/11
Baby Girl was adopted on 3/2/2011 and lives in George Island, FL.
Baby Girl and Shawn were owner turn-ins because their mom had to go into an assisted living center.
BabyGirl gets along with other dogs, loves people and likes to be brushed and have her belly scratched.
BEAUX
Gender: Male
Age: 19 mos
Spay/Neutered: 11/16/11
Heartworm status:Tested negative 11/16/11
Intake: 11/12/11
Beaux was adopted on 12/31/2011 and is living with Don in Morgan City, La.
Beaux is a big red boy at 89 pounds. He's all puppy.
Beaux gets along will with other dogs,like to play ball and chase.
BECKETT
Gender: Male
Age: 3 years
Size: about 60 lbs
Neutered: 7-18-11
Vaccinations: UTD 7-18-11
Heartworm Status: Positive (being treated using the slow method)
Intake: 7-11-11
Beckett was adopted and is living in Port Allen, LA.
Update on Beckett:
"Just wanted to drop a line and let you know how wonderful Beckett is. He is the most wonderful dog I have ever had the pleasure of sharing my life with. He is really my best friend and he goes everywhere with me. We can't wait till the days warm up and dry out so we can get to the park more often! He is still testing positive for heartworms but we are on top of his treatment and we'll be so excited when he is heartworm free."
BELLA
Age: 1 1/2 yrs.
Spay/Neutered: Yes
Vaccinations: 6-23-2011
Heartworm: Tested Negative6-23-2011
Intake: 6-29-2011
Bella was adopted on 7/15/2011 and lives with her new dad, Greg.
Bella is a sweet and extremely affectionate girl who makes friends easily. She loves swimming and fetching tennis balls and especially hugs. She is excellent with other dogs and our kitten.
BLAKE
Age: 1 year (DOB: 01-18-10)
Weight: 60 pounds
Gender: Male
Spay/Neuter: yes
Vaccinations: April 2010
Heartworm Status: Tested negative 12/10
Blake went to his forever home in Pensacola, FL on 1/15/2011.
Blake is a beautiful blond boy that was turned in to a shelter because his family could no longer afford to care for him. He has plenty of puppy energy and is ready to run and play but will settle down inside. He is always excited to go to the dog park where he can run and play as long as he is allowed. He seems to be filled with joy.
BRUCE
Gender: Male
Age: 1 year
Vaccinations: 8/11
Heartworm status: Tested negative 8/11
Intake: 8/5/11
Bruce was adopted and is living in MS.
Bruce is a 1 year old neutered male. He is housebroken and UTD on vaccinations. Bruce came to us from a local shelter after being turned in by his owner.
Bruce had surgery on 8/25/11 to correct a hip problem. He will get physical therapy/rehab and then be ready to go to his forever home by 10/1 .
We named him Bruce but the doc that did his hip surgery thought he was such a wonderful dog he started calling him Bruce 'The Great'. We all agree!
BUDDY
Age: 6 yr
Spay/Neutered: Yes
Heartworm Status: HW negative
Buddy went to his forever home on Saturday 11/26/11
He will be living the good life in Jackson Mississippi with his new mommy, a middle school Art teacher and his stepsister, a 14 yr old golden Annie.
CAJUN
Age:12 weeks
Gender: Male
Intake: 11/18/11
Cajun was adopted on 11/19/2011 and is living in FL. with Don.
Cajun is a 12 wk old pup from a local shelter.
CARLOS
Gender: Male
Age: 2-3 years
Size: fit 62 lbs
Neutered: 3-24-11
Vaccinations: UTD 1-6-11
Heartworm Status: Positive but undergoing treatment
Intake: 3-28-11
Carlos went to live in NH in October of 2011.
Carlos is an outstanding Golden mix who came to us through a vet in the Shreveport area after a police officer found him. That officer must have known what a special boy he was because he certainly has captured our hearts and those at the vet's office where we picked him up!
CHARLEY
Age: 7 years
Weight: 60 pounds
Gender: Male
Spay/Neuter: yes
Immunizations: 10/15/10
Heartworm Status: light positive
Date of Intake: 10/15/10
Energy level: low
Charley was adopted in April of 2011; here is an update from January of 2012 from the Phares family. They are thrilled that he's doing so well in the midst of loosing sweet Chloe-2011- his GSGRR sister.
Charley came to our home with multiple medical issues we were aware of before we adopted him. Our vet, Dr. Ritter in Bossier City, did a great job getting Charley healthy and now he is a typical energetic boy. He is not very bright, but his goofy behavior and antics makes him very endearing to everyone he meets.
Even though he loves to rough house and act mean when he plays, he wouldn't hurt a fly. He had surgery to correct an anomaly in his throat and now he can't bark. It seems to frustrate him that he can't. He is as gentle as a lamb.
No one has ever told him he is a Golden Retriever. He is scared to death of water. He won't go near the pool or get within 30 feet of the shore line when we go to the lake. He does love to ride in our van and acts depressed when he can't go with us.
He is 100% a momma's boy. He will only eat when Helen is sitting next to his food dish and will only take his medications for her. He follows her around all the time. Most times he won't go outside to the bathroom unless Helen lets him out. I find it frustrating, but my wife loves having a momma's boy.
CHLOE
Age: 10 years
Gender: Female
Spayed
Heartworms: Tested Negative 7/2010
UTD 8/2010
70 pounds
Chloe was adopted in March of 2011 - she has captured the hearts of two retired Air Force members here in Shreveport.
"We are absolutely crazy about her. The more comfortable she gets with us the more vocal she is becoming. We get a lot of happy and playful growls and she makes woo woo (mini howls) sounds when she gets excited. She definitely brings a lot of laughter in the house."
COOPER
Gender: Male
Age: 11 months
Spay/Neutered: yes
Vaccinations: UTD
Heartworm status: negative
Cooper was adopted and is living in Kenner LA.
Cooper is a beautiful, fun, good dog! He gets along great with all 2 and 4 legged creatures he's met. He is a puppy and has better manners than most puppies I've met, but he is a puppy.
CODY
Age: 2yr 4 mths
Weight: 78 pounds
Gender: Male
Spay/Neuter: yes
Immunizations: 02-04-11
Heartworm Status: neg
Date of Intake: 01-28-11
Energy level: high end of moderate
Cody was adopted in February of 2011.
Cody came to us after his original family had a change of life situation. As much as they loved Cody, they did not have the time to give this energetic, playful young dog. Cody likes to play with toys, dogs and humans. He is energetic and needs plenty of exercise and attention.
COLT NOW COCO
Age: 6.5 years
Intake: 3/25/11
Adoption date: 4/12/11
HW status: tested negative
Neutered male
UTD on inoculations
An update on Colt:
"Thanks for reaching out Alicia. All I can say is "Colt" (now our "Coco") has lit up our lives in the past year. He has meshed perfectly with our other two little ones and our kitties. He is an older golden who has litterally gained a spring in his step since being with his new family! He is more energetic and lively every day. He has also probably traveled more in his time with us and loves nothing more than snoozing on a good road trip with some head-out-of-the-window time. He has even been on hikes in the appalachians and swam in the Gulf of Mexico!"
Colt was an owner turn in due to a change in his family's life situation. They were heartbroken to have to give him up but they had no choice.
CRICKET
Gender:Female
Age:4 years
Spay/Neutered:Yes
Vaccinations:3/11
Heartworm status:Tested positive 3/11, on slow treatment
Intake:3/14/11
Cricket was adopted in May of 2011 and going to live with a man who is willing to work with her issues.
An update from her new daddy in April of 2012:
"It's been about a year so I thought I'd give you a Cricket update... she's doing wonderful, she is heartworm free. She has the sweetest personality, is well behaved, walks well on the leash and killed one of my neighbors chickens! Thankfully Sean is a good guy... he actually thought it was kinda funny. She dug under the fence, got into the coup, grabbed one and took it to my yard then went back and got another! I foundthe dead one's feet sticking up out of the dirt behind ,my garage."
DAISY
Gender:Female
Age:8-9 years
Spay/Neutered:Yes
Vaccinations:12/09/10
Heartworm status:tested negative 12/09/10
Intake:12/09/10
Daisy has been adopted by one of our GSGRR volunteer families. She has been diagnosed with cancer and will live her remaining days being loved by a very special family.
Daisy was turned in to GS after she was found outside a business in Prairieville,La. Daisy is a Golden in search of a loving forever home. By the looks of her teeth and her ears she didn't have the best life before coming to rescue. Her ears show evidence of chronic untreated ear infections. Her front teeth are worn all the way down too.
DUNCAN
"We welcomed Duncan into our home on Sunday, April10th. He is an intact, male golden mix and is approximately 4 months old. He is such a smart, sweet boy.
Since he's been here he has been introduced to our cats. I think they are more interested in him than he is of them! On the funny side, this lil guy has some personal space issues! He loves to be right under your feet, plops his bottom right down on any part of you he can(so if your laying on the floor watch your face). Duncan absolutely loves the kids and prefers playing with them instead of our dog.
Duncan seems to be food/treat motivated. Training has been GREAT! He is sitting, lying down, and coming on command. Also, his crate training is going well. He has had one accident and that was from being excited to see us. We feel Duncan would be a perfect companion for anyone who is willing to be loved and licked alot!"